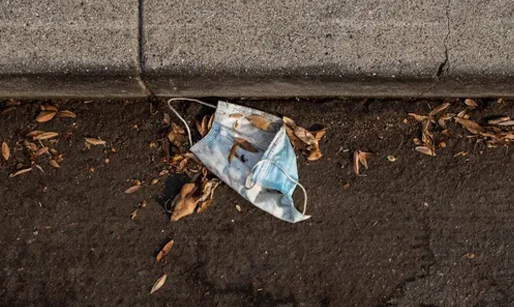 Australian researchers say used face masks could be recycled to make roads
It's a sad sight most of us have become accustomed to; a disposable facemask, discarded on our roads, footpaths and gardens.
In fact, surging levels of PPE equipment throughout the pandemic has seen dozens of gloves, masks and bottles of hand sanitiser ending up in our oceans, causing great damage to our waterpays and ocean species.
However their could be a solution on the horizon, with The Guardian recently revealed a witty group of researchers from Melbourne's RMIT University have devised a plan to help disposed face masks contribute to the creation of new roads.
Recently developing a road-making material by combining shredded, single-use masks with processed rubble, the group of researchers are confident that the material would both meet civil engineering safety standards while also helping to tackle the significant level of waste associated with COVID-19 protective equipment.
The study, published in the journal Science of the Total Environment, found using the material to make 1km of the two-lane road would use about 3m masks and prevent 93 tonnes of waste from going to landfill.
Lead author, Dr Mohammad Saberian, said research cited that a blend of recycled concrete aggregate alongside disposable facemasks could make a 'stronger, better and more flexible' road system.
"The pandemic has created too much rubbish," he said.
"We saw the masks in parks and streets in every suburb. We were inspired by the idea to look at circular economy solutions and reduce the pandemic-generated waste."
Saberian said the masks delivered engineering benefits when used in construction.
"We need to have flexible roads, otherwise the road structure wouldn't be able to sustain the wheel loads. [Recycled] masks or plastic can provide such a good flexibility property," he said.
Several shires within the Barwon South West are getting onboard the use of recycled materials in our roads, including the City of Greater Geelong. Check out our blog post on their great work here.